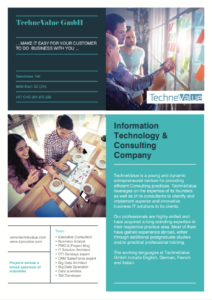 TechneValue
TechneValue is a young dynamic company providing 360° business consulting services addressing all the needs of enterprises aiming to optimize their performance in today's fast-paced, hyper-competitive market. Leveraging the extensive expertise of its founders and teams of highly skilled independent consultants — all with several years' experience in various industries at EMEA level — TechneValue offers time- and cost-effective customized solutions without compromising on quality and scope.
We analyze the needs, expectations and concerns of each client to identify, develop and implement complete cutting-edge business and IT solutions. Our key competitive advantage is our Consulting teams' unique combination of industry knowledge and technical skills, acquired by working with a wide range of large and medium-sized businesses. Their pragmatic mindset and rigorous analytical abilities are an invaluable asset in dealing with our clients' most complex challenges.
TechneValue's multinational, multicultural environment and its connections in the EMEA countries offer our customers the opportunity to further develop and promote their business internationally. Our wide range of services and fields of expertise encompasses several technologies and processes, allowing us to identify the best, most innovative business IT solutions to help companies better manage their clientele.
Our Services
Business Consulting: Methodology and industry expertise, Customer relationship management, Multi-channel customer service and support, Sales process automation, Marketing and analytics, Mobile and contact center solutions.
CTI Contact Center: Professional Services Team with different seniority levels and technological platform specializations, with a strong focus on the Genesys solution suite.
Big Data & Advanced Analytics: Team of experienced consultants guiding and supporting enterprises in acquiring a better understanding of phenomena, facts and human behaviors connected to their processes, customers, organization and technological infrastructures.
ERP/CRM Enterprise: Consulting and professional services answering all your business needs, including CRM system implementation and optimization with a strong focus on the Salesforce platform.
4prόodoς TechneValue's proprietary Performance Management Solution offering an ideal work environment to create the best action plan based on your specific needs and objectives, showing exactly what to do and when to do it, assessing the progress and motivation of all the stakeholders involved in each business process for optimal results.