Angel Pad – Ambient Assisted Living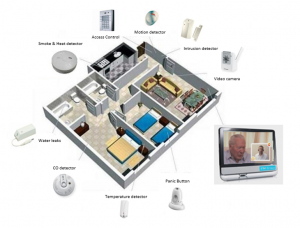 The improvement of the quality of life of frail people and the need for protection can be achieved through the adoption of integrated technologies capable of monitoring environment and health parameters affecting people's life. The goal of such technologies must be focused on:
– Prevent, measure and advise potential risks
– Support frail people inside and outside their houses
– Allow immediate access to support services
– Facilitate communication and socialization
.
.
.
Allow also Service Centers to:
Receive alerts and interact with people
Manage people's relevant data (personal info, habits, medical info, relatives, etc.)
Provide recurring support
Provide value added services
Activate emergency procedures on emergencies
The adoption of technologies must not be limited to the creation of "home automation" solutions, but must generate a system able to:
Manage complex processes, not only monitor events
Track and store events and related actions
Adapt to emerging needs
The achievement of this goal must be carried out through the integration of different technologies related to:
Multi-sensor
Active video surveillance
Workflow management
Event Contact Center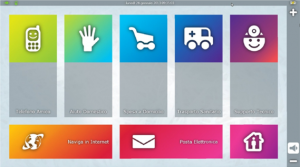 AngelPad allows access to all services through a tablet devices with a friendly and easy to use interface, which can be easly customized according to the services provided. User interface allows:
– Management of video/voice communications
– Internet surfing
– E-mail access
– Activation of alternative sensor events management («Empty Home»)