#Phone Contact Center Suite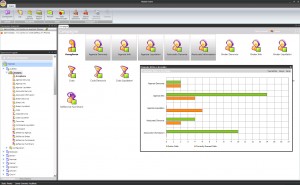 Phones Enterprise is the suite IFM contact center systems are based on. It is a contact management system that not only handles traditional telephony but also VoIP, Chat, Email, Web Collaboration, Data & Desktop Sharing and event management. Phones Enterprise is geared towards universal communications. The concept of contact adopted by Phones Enterprise makes the type of media or signal indifferent. Phones Enterprise overcomes the limits of traditional contact centers and introduces the concept "Contact Center of facts".
Phones Enterprise is the suite IFM contact center systems are based on.
Any event, whether a phone call, chat session, sensor signal or image from a camera, is routed to the right destination to execute the best action. Extensive architecture modulation makes Phones Enterprise an ideal tool for integrated management of inbound and outbound Contact Centers regardless of the size. It is also possible to build a geographically distributed configuration using SIP (Session Initiation Protocol) VoIP technology at all levels of connection:
Towards the public network (where available)
Between switches
Towards operators
Phones Enterprise is effective wherever quality and efficiency is needed to manage contacts and where this is considered an essential part of the organization from CRM to phone-based customer support, from e-commerce to online trading, from market surveys to the helpdesk, from direct banking to surveillance systems.
PRIMARY FEATURES
Inbound, Outbound, Blended
Agents can be assigned to several inbound and outbound campaigns simultaneously, blending calls and events according to predefined criteria and priorities.
Automatic Distribution
Criteria for contact distribution is defined using sophisticated features for Automatic Call Distribution (ACD), Intelligent Call Distribution (ICD) and Skills-Based Routing.
Smart Queuing
Queue management is based on a logic that takes into account application needs. It can be enabled on any type of media and uses sophisticated algorithms to optimize hold time.
Unified Reporting and Monitoring
Reporting services provide the possibility, also through the browser, to generate predefined historical reports or reports created by the user. Monitoring features enable you to oversee contact center operations in real time from a single interface.
Coaching
The coaching feature, designed in accordance with privacy laws, enables the supervisor to share content with agents as well as listen to agent conversations and share the desktop.
Synthetic Agents
Synthetic agents (Interactive Voice Responder, Interactive Voice Video Responder, Interactive Web Responder, Interactive Chat Responder, Interactive Event Responder) perform all their interaction events as if they were human agents, thus enabling them to swap contacts and data.
Remote-Agents
Whether using VoIP or ISDN phone lines agents can work from any location.
Dynamic Resource Allocation
A simple Drag & Drop on the graphical interface enables you to assign or remove resources without interrupting operations while the system is up and running.
Multimedia Contact Management
Agents can be simultaneously assigned to any type of media.
Fault Tolerance, Fault Resilience
The Fault Tolerance module is a guarantee against system shutdown and the right architectural configuration ensures a high level of resilience. High availability (no single point of failure) and the ability to set up disaster recovery configurations make it possible to achieve five-nines reliability.
Predictive Dialing
by statistical inference. The sophisticated prediction technology together with constant monitoring of agent state enables the system to accurately estimate the time each agent terminates their current task and then apply the most effective strategy to make a new contact available. The extremely high efficiency of these techniques applied and the supervisor's ability to adjust the degree of prediction according to operational conditions makes it possible to achieve incomparable performance levels.
BENEFITS
EFFICIENCY
High performance in terms of efficiency and productivity. Phones Enterprise enables companies to take efficiency to new heights by taking full advantage of the skills each agent possesses wherever they are located. This is possible by taking a holistic approach to resource management and by providing available information for each contact.
EASE OF USE
– Easy to use and easy to manage
– Little training needed
– Single service approach
INNOVATIVE TECHNOLOGY
– Flexible, customizable and scalable architecture
– Highly reliable and resilient
– Application interface standardization
– Complete call tracking
– New generation outbound module