Big Data & Advanced Analytics Practice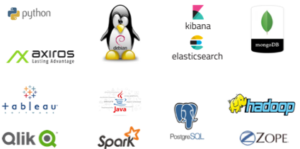 …more info ?  e@mail us now !    Call us now !
Our operational capabilities take into account that your corporate and business units need to collects information as much as possible. We aid to retrieve the unused data, or Dark Data, generated (collected, processed and stored) by any organisation during the regular business activities, but that generally are not used for other purposes. Our best practices guide to understand phenomena, facts and behaviours about your customers, your organisation and your technological infrastructure.
Our area of expertise is related to Data Management, Business Intelligence and Big Data Analysis, with strong experience also as IT development. Our capabilities span among various technical aspects since we have expertise on all major and innovative technologies and on regular basis we add new "capabilities".
We Provide:
Unix OS and Microsoft
Distributed database SQL and NoSQL
Programming language as Java, C#, Scala, Python etc.
Reporting systems and analytical tools
Hadoop framework